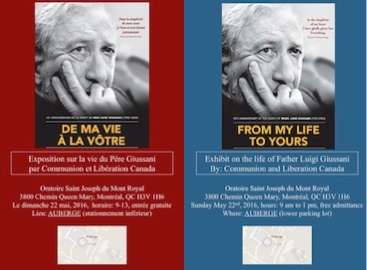 22/05/2016 | 09:00 | Canada | Montréal / Montreal, QC
Oratoire Saint Joseph / Saint Joseph's Oratory
Exposition "De ma vie à la vôtre" / Exhibit "From my Life to Yours"

Exposition sur la vie du Père Giussani par Communion et Libération Canada.
Oratoire Saint Joseph
Le 22 mai 2016 de 9h00 à 13h00

Exhibit on the life of Father Luigi Giussani. By: Communion and Liberation Canada.
Saint Joseph's Oratory​ on May 22, 2016
9:00 a.m. to 1:00 p.m.